Touch a star to leave a review!
Enjoy one of our delicious appetizers. Great for sharing, happy hour or a hearty snack.
Four colossal shrimp, cocktail sauce with avocado, cumber, onions, tomatoes, and lemon wedges
soft boiled egg wrapped in country sausage, breaded, fried, and topped with sriracha hollandaise.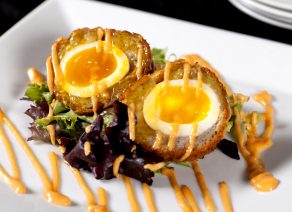 Two grilled flour tortillas, black beans, pepper jack, cheddar, fire roasted salsa, and sour cream.
add chicken or ground taco beef for $ 4
add beef steak for $5
side of guacamole for $2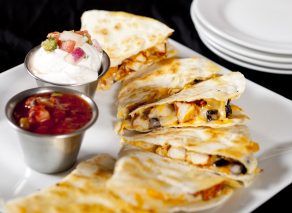 8oz.marinated beef, breaded and fried. with a side of horseradish cream sauce.
1lb. of battered chicken tenders, french fries, and cajun aioli.
1lb. bone-in wings, fried, served with your choice of BBQ, buffalo, Caribbean dry rub, honey sriracha, mango jalapeno, Thai curry, or Tennessee hot  sauce, and celery.( Limit of two sauces per order)
1lb. boneless chicken breast, fried, served with your choice of BBQ, buffalo, Caribbean dry rub, honey sriracha, mango jalapeno, Thai curry, or Tennessee hot sauce, and celery.( Limit of two sauces per order)
house breaded and fried, tossed greens, lemon vinaigrette, remoulade dipping sauce, fresh lemon, tomato and green onion garnish
2 BBQ Ribs & Mashed Potatoes (*GS)
six toasted crostini, with mozzarella, pesto, and tomato verge with balsamic reduction
*GS – gluten sensitive meal option